Fish On! With Denver's Mississippi River Guide Service!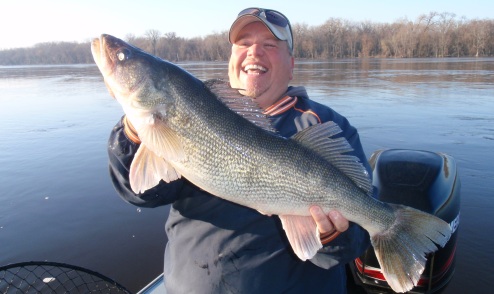 Mississippi River & St. Croix River Fishing Guide Denver McKinnon. Over 38 years of experience!
Denver has been fishing the Mississippi River system for over 38 years. With a lot of experience on the river, Denver feels that guiding is the best way to pass on the Mississippi River and St. Croix river knowledge he has gained over the years.
Whether interested in bring home fish for dinner or looking for a trophy, Denver will do his best to provide you with a happy and exciting day. You can choose the target species between Walleyes, Sauger, and Crappie. The techniques you learn with Denver will help you when you are out on your own on the Mississippi River and St. Croix River. Denver guides on the Pool 2 (St. Paul), Pool 3 (Hastings), and Pool 4 (Red Wing) of the Mississipi River. He also guides on the St. Croix from Hudson all the down to Hastings. Book a trip today with Denver's guide Service, and let your Mississippi or St. Croix River fishing adventure begin!
Check out Denver's recent Mississippi River fishing reports. He adds a report almost each time he is out, so check back often to see what the fish are up to! Also, take a look at his Mississippi River trip logs to see stories from his client trips and testimonials!
"Thanks again so much for a great day fishing. My dad and I had a great time. Good luck with the softball in Mankato and drive safe." - Matt (Red Wing trip 09/23/11)
Mississippi River walleye and sauger report
Wednesday, May 11, 2022
How does a guy start this report. When I thought I've experienced about everything the elusive walleye could throw at me I suddenly realize there is much more to learn. This spring has been like no other. I've seen more fish on my Garmin electronics this year than I have since I've fished the river system.

Now let's just say with all the conditions continually changing it seemed to take a great early spring bite to just about drive a person crazy after another of the ever ending cold fronts come through thaf just shut the bite down at times. You would see mark after mark but would get maybe a few bites a day during a one week period. When these types of things happen that's what makes having as much experience on the adjoining pools to both myself and Marty Hahn's advantage.

We switched up pools and walla we were putting some really nice walleye and sauger in the boat. The biggest thing you had to do was adjust speeds and colors on the other pools. I went from using plastics on pool 4 to using hair jigs that Marty tied up on the other pool to put fish in the boat. We always try to keep our clients on the best bite we can when things change. I'm a believer also that a little change in scenery can be to your advantage and think outside the box.

Dubuque rigging has still been the best technique for putting numbers in the boat. With the warmer water temperatures this week I will start to pull bait around on three ways and also pull the rig with Shad raps and or other cranks styled baits. You will start to get plenty of bites shallow now that the river temp has warmed up to 57 degrees. Keep your eyes out for the schools of shiners along the shorelines and you will be awarded with some great success casting to those areas the fish are chasing them.
Here are a few colors that worked well for me this spring. Chartreuse green core, Purple char tail, chartreuse pepper, and purple white. Both in moxies and pulsars. Hutch had some nice new purple ringworms that had a hot streak for about two weeks also. You can order them through hutches jigs.
I'd like to thank everyone that chose my guides service on the mighty Mississippi River and I look forward to our next outings.
Water depths I targeted in the last couple weeks has been around the 8-14 ft mark. All depended on where the walleyes sat each day. When the water temperature would drop I always started out slower in speed on pulling my sun rigs. BE patient and believe in your electronics.

good luck out there guys and gals!!!!!!