Fish On! With Denver's Mississippi River Guide Service!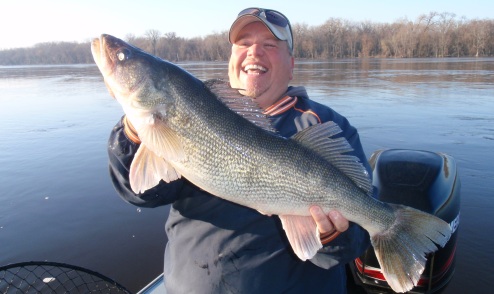 Mississippi River & St. Croix River Fishing Guide Denver McKinnon. Over 38 years of experience!
Denver has been fishing the Mississippi River system for over 38 years. With a lot of experience on the river, Denver feels that guiding is the best way to pass on the Mississippi River and St. Croix river knowledge he has gained over the years.
Whether interested in bring home fish for dinner or looking for a trophy, Denver will do his best to provide you with a happy and exciting day. You can choose the target species between Walleyes, Sauger, and Crappie. The techniques you learn with Denver will help you when you are out on your own on the Mississippi River and St. Croix River. Denver guides on the Pool 2 (St. Paul), Pool 3 (Hastings), and Pool 4 (Red Wing) of the Mississipi River. He also guides on the St. Croix from Hudson all the down to Hastings. Book a trip today with Denver's guide Service, and let your Mississippi or St. Croix River fishing adventure begin!
Check out Denver's recent Mississippi River fishing reports. He adds a report almost each time he is out, so check back often to see what the fish are up to! Also, take a look at his Mississippi River trip logs to see stories from his client trips and testimonials!
"Thanks again so much for a great day fishing. My dad and I had a great time. Good luck with the softball in Mankato and drive safe." - Matt (Red Wing trip 09/23/11)
Upper Mississippi River walleye and sauger report
Saturday, May 13, 2023
All I can say is wow to how many walleye and sauger this river. Even with the water level reaching historic highs this year I had to make some adjustments to areas I normally fish when I would go through these areas with my Garmin 126. I would notice the normal areas had way to much current so after a little searching around I would find smaller pods of walleye and sauger in new areas. That's why I can not preach enough about believing in your electronics.

One of the other things I can pound in your head is when we have big changes in the system due to high water, this is absolutely one of the best things for the walleye and sauger spawn. Mark my words in three years will will have one amazing fish catch of walleye and saugers measuring out from 14-17 inches.

We over the last couple weeks would catch between 15-30 keeper sized walleye and sauger a day even with some nice bonus big fish each outing. I used Dubuque rigs at times with jig sizes that ranged from 3/8 th to 3/4 ounces jig heads. Color of plastics seamed to change each time I went out. We also did some pitching of plastics at times and put fish in the boat too. Another thing I did when I would find walleye in slacker water areas is long lining jigs with a 1/4 jig and plastics. This is an absolute fun way to get into the walleye due to the force you feel them strike will at times scare the crap out of a person.
Watching water temperatures is a must also in early spring time fishing. The walleyes and saugers spawn in different areas all over the pools. Keeping an eye on this will make your success rate at catching more walleyes than the other anglers. I'm not dogging on other anglers by any chance I'm trying to teach you things to better yourselves as fishermen. Any guide putting out fishing reports always hints at things that work to help the other anglers.
I would like to thank all the folks that have booked my guide service in the last few weeks. A big shout out to John who had his mind made up he was taking the big fish on our trip with Nick. John got into a dandy male walleye in the morning hours of our trip measuring out at 24 1/2 inches. Nick worked all day trying to beat it but John wasn't done on our last pass Johnny got into his giant 28 incher still with spawn weighing in at 10:6 lbs. Way to go John I knew you could pull it off. I look forward to seeing you guys this fall.
Now we are moving into post spawn fishing so everyone will have to adjust to different techniques. I like to switch to pulling bait like leeches, crawlers, and even creek chubs at times. Also pulling cranks will be very good soon. Finding those pods of fish and finding out what they want to eat each day can and will be challenging at times for everyone. Adjustments are a must each time you go.

Good luck out there guys and gals !!!!!