Fish On! With Denver's Mississippi River Guide Service!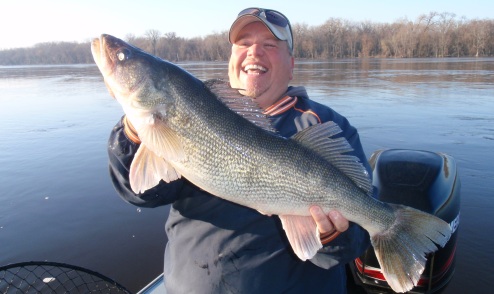 Mississippi River & St. Croix River Fishing Guide Denver McKinnon. Over 38 years of experience!
Denver has been fishing the Mississippi River system for over 38 years. With a lot of experience on the river, Denver feels that guiding is the best way to pass on the Mississippi River and St. Croix river knowledge he has gained over the years.
Whether interested in bring home fish for dinner or looking for a trophy, Denver will do his best to provide you with a happy and exciting day. You can choose the target species between Walleyes, Sauger, and Crappie. The techniques you learn with Denver will help you when you are out on your own on the Mississippi River and St. Croix River. Denver guides on the Pool 2 (St. Paul), Pool 3 (Hastings), and Pool 4 (Red Wing) of the Mississipi River. He also guides on the St. Croix from Hudson all the down to Hastings. Book a trip today with Denver's guide Service, and let your Mississippi or St. Croix River fishing adventure begin!
Check out Denver's recent Mississippi River fishing reports. He adds a report almost each time he is out, so check back often to see what the fish are up to! Also, take a look at his Mississippi River trip logs to see stories from his client trips and testimonials!
"Thanks again so much for a great day fishing. My dad and I had a great time. Good luck with the softball in Mankato and drive safe." - Matt (Red Wing trip 09/23/11)
Mississippi River walleye and sauger fishing report
Wednesday, October 7, 2020
We are starting to see a little movement of walleye, sauger and even some tanker crappies coming out of lake pepin into the river. This is a fun time of the year for us guides and as any angler you really have to enjoy it. First off let me give a shout out to my good friend and great guide Marty Hahn for keeping me on my toes on staying on chasing these fish even through tough times. You are one of a kind Marty and I am glad I spoke to you many years ago at the boat launch.

Now to the report. What a difference in a two week span. After paying attention to my Garmin 93 sv plus I started noticing quite a few more marks in areas I had suspected I should have and then started figuring out techniques the would work to get these new marks to bite. Seemed like trolling the rig produced many more walleye and sauger as of late. Each day I noticed the size of fish changed through areas letting me know these fish are in the move in small schools and sizes.

Colors of cranks also changed from day to day one day light one day darker colors. And let's not forget trolling speed to figure out. Seemed like one day they wanted it at 2 mph then the next 1.6 mph so be willing to change it up each outing. Water depth is the next obstacle I had fish going in 8 foot one day then the next 15. Allow yourself to look at the electronics when you roll through an area to see where they are sitting.
I would like to say what a birthday present Duke gave his 11 year old son Leo when they were in town for a wedding all the way from Maryland. Leo took no time putting his first ever walleye and sauger in the boat on this chilly morning. After a couple hours we switched it up and chased the panfish with Leo and his dad putting several Crappies in the boat. What a fun time guys and thank you for choosing my guided service.

I would also like to thank all the other folks that have joined me on the river as of late, it is great to see y'all really enjoy yourselves on my boat. The fall colors are in full bloom and the guys mention it each day we are out.
Water clarity is very good right now I believe I can see at least 14 inches. Water temperature today was 58 degrees on the river system. The water level is low right now at 2.9 ft. Be extremely careful folks. This is the prime time to fish many techniques. Trolling, vertical,and pulling will all produce fish.
good luck out there guys and gals!!!!