Fish On! With Denver's Mississippi River Guide Service!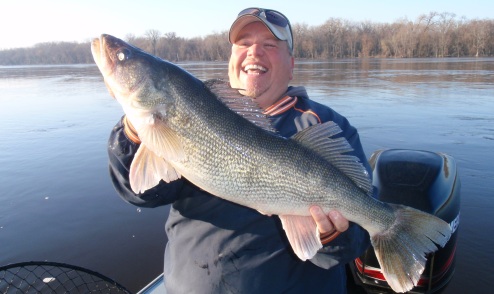 Mississippi River & St. Croix River Fishing Guide Denver McKinnon. Over 38 years of experience!
Denver has been fishing the Mississippi River system for over 38 years. With a lot of experience on the river, Denver feels that guiding is the best way to pass on the Mississippi River and St. Croix river knowledge he has gained over the years.
Whether interested in bring home fish for dinner or looking for a trophy, Denver will do his best to provide you with a happy and exciting day. You can choose the target species between Walleyes, Sauger, and Crappie. The techniques you learn with Denver will help you when you are out on your own on the Mississippi River and St. Croix River. Denver guides on the Pool 2 (St. Paul), Pool 3 (Hastings), and Pool 4 (Red Wing) of the Mississipi River. He also guides on the St. Croix from Hudson all the down to Hastings. Book a trip today with Denver's guide Service, and let your Mississippi or St. Croix River fishing adventure begin!
Check out Denver's recent Mississippi River fishing reports. He adds a report almost each time he is out, so check back often to see what the fish are up to! Also, take a look at his Mississippi River trip logs to see stories from his client trips and testimonials!
"Thanks again so much for a great day fishing. My dad and I had a great time. Good luck with the softball in Mankato and drive safe." - Matt (Red Wing trip 09/23/11)
Ice fishing report. The river and some local lakes
Sunday, January 17, 2021
Over the last two weeks I have given the boat a break and been concentrating on fishing the hard water. I have at left the river all together since I've been fishing the back water areas but I have also been hitting some local lakes closer to home.
Each time I have gone out I have been targeting different species. One day bull gills, the next perch then crappies and finally some fun days this week chasing walleye in a local lake. My limit creek panfish smoothie has been an awesome rod to use for these panfish. Very sensitive and great rod tip for the fight. All my trips of late have been very successful once you find the pods of fish that want to cooperate.
Lets start this out with the gills. I have been getting them close to the bottom using little tungsten jigs tipped with waxies. The depth we got them to go in was right around 5 foot. One thing I noticed each day was how they would go from being very aggressive on the cloudy days to more lethargic on the sunny days. Fun days chasing them and good company to boot with Marty, Nick, Rick, and Tom. Look forward to another time out.
Now the perch. Some of the perch we have been getting are in same depths last week as the gills. Just using minnows and spoons most of the time and on occasion switching to a jig to get them. Snare rods have done well with them too. When using the snare rods I like to let them load up on it before grabbing it and setting the hook. One more thing each day has been different in minnow size . Test them out see what size they want, don't get stuck in a rut.
Now to the walleye. This week myself and my buddy Rick Enright set out to catch walleye through the ice on a couple lakes. The first lake we hit was a dud. We left there and went two another one around 11 am in the morning. After getting set up it wasn't long and I seen a mark on my marcum at 7 ft. All the sudden bam my first walleye of the day which was around 14 inches that I lost at the top of the hole.
At this point I'm thinking to myself. I just spent 4 hours with no bites and here I lose a walleye in the hole. Well turns out that was just the start to a great day. Rick and his buddy Chad had to leave and they gave me all the minnows they had. I moved to another area just west of me and holy crap the bite was on from 2 pm til dark. I myself iced over 40 plus walleye in this time. I was using jigging spoons tipped with minnow head and also my snare rod with a minnow for a dead stick. Both ways put many fish on the ice but most walleye were on the small side.
Great time on the ice gentlemen and I look forward to another day out with you. Be safe on the ice if it doesn't feel right the back off it to stay alive.

Good luck guys and gals !!!