Fish On! With Denver's Mississippi River Guide Service!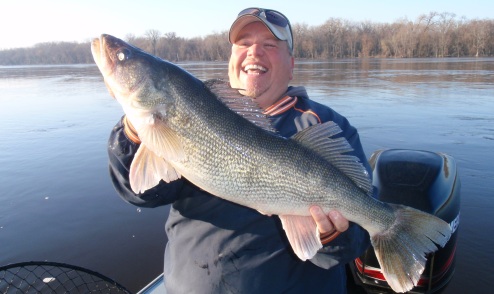 Mississippi River & St. Croix River Fishing Guide Denver McKinnon. Over 38 years of experience!
Denver has been fishing the Mississippi River system for over 38 years. With a lot of experience on the river, Denver feels that guiding is the best way to pass on the Mississippi River and St. Croix river knowledge he has gained over the years.
Whether interested in bring home fish for dinner or looking for a trophy, Denver will do his best to provide you with a happy and exciting day. You can choose the target species between Walleyes, Sauger, and Crappie. The techniques you learn with Denver will help you when you are out on your own on the Mississippi River and St. Croix River. Denver guides on the Pool 2 (St. Paul), Pool 3 (Hastings), and Pool 4 (Red Wing) of the Mississipi River. He also guides on the St. Croix from Hudson all the down to Hastings. Book a trip today with Denver's guide Service, and let your Mississippi or St. Croix River fishing adventure begin!
Check out Denver's recent Mississippi River fishing reports. He adds a report almost each time he is out, so check back often to see what the fish are up to! Also, take a look at his Mississippi River trip logs to see stories from his client trips and testimonials!
"Thanks again so much for a great day fishing. My dad and I had a great time. Good luck with the softball in Mankato and drive safe." - Matt (Red Wing trip 09/23/11)
Ice report from last couple weeks
Saturday, January 22, 2022
Over the last couple weeks I've been all over the place on the ice from pool 3 all the way down to pool 8. The bite each day has been different with all these fronts moving through. Picking what to chase has been the challenge for me but going with friends and family is always a blast.

The best part of fishing with a big group is everyone can try different techniques and also types of lures to use to find out what the fish want to eat each day. We have fished in water depths from 3-24 ft depending on what species we have chased each time. We have gotten crappies, blue Gil's, perch (my fav on ice), and even a couple walleyes.

The different types of bait I have used so far have been small tungsten jigs, little Cecil's,Swedish pimples, slender spoons and just a bare hook and minnow at times. Each prestation has shined at times but overall with the fronts we have had to work hard to put fish into the bucket. I don't get to do much pan fish guiding until august most years so it's a great break from the chasing walleyes through the ice.

I would like to say thank you to everyone I've fished with the last couple weeks. Paige, Dillon, Ryan , Robert, Denzer, Jevin, Kendra, Cary, Aiden, Micheal and Nick Carrol , Postman, Smalls,Meredith Evans and Mike Cahill. Every time I fish with y'all it's a blast and memories I hope I never forget. Oh yeah and Nick is down $8 to me on first fish on the ice for the winter. Hopefully we can get out again as a group soon.

Good luck out there guys and gals!!!