Fish On! With Denver's Mississippi River Guide Service!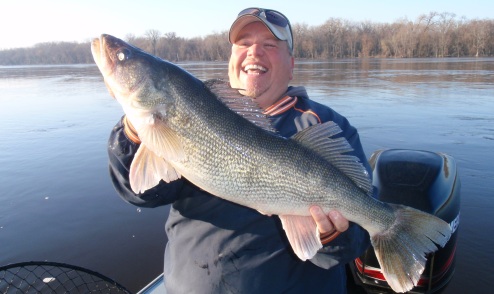 Mississippi River & St. Croix River Fishing Guide Denver McKinnon. Over 38 years of experience!
Denver has been fishing the Mississippi River system for over 38 years. With a lot of experience on the river, Denver feels that guiding is the best way to pass on the Mississippi River and St. Croix river knowledge he has gained over the years.
Whether interested in bring home fish for dinner or looking for a trophy, Denver will do his best to provide you with a happy and exciting day. You can choose the target species between Walleyes, Sauger, and Crappie. The techniques you learn with Denver will help you when you are out on your own on the Mississippi River and St. Croix River. Denver guides on the Pool 2 (St. Paul), Pool 3 (Hastings), and Pool 4 (Red Wing) of the Mississipi River. He also guides on the St. Croix from Hudson all the down to Hastings. Book a trip today with Denver's guide Service, and let your Mississippi or St. Croix River fishing adventure begin!
Check out Denver's recent Mississippi River fishing reports. He adds a report almost each time he is out, so check back often to see what the fish are up to! Also, take a look at his Mississippi River trip logs to see stories from his client trips and testimonials!
"Thanks again so much for a great day fishing. My dad and I had a great time. Good luck with the softball in Mankato and drive safe." - Matt (Red Wing trip 09/23/11)
Ice and first open water report of 2020
Saturday, January 11, 2020
Well we are into the year 2020 and look folks our river is still running a couple feet higher than normal for this time of the year. Our main culprit for this is the record 43 plus inches of rain in the year of 2019. This is the reason I have continuously said adjusting to the condition have been a must all of 2019 and now even into 2020.
Even with the higher water conditions, with my other fishing partners Marty Hahn, Brian Paulson, Rick Enright and my good buddy from Hastings Meredith Evans, we were able to put multiple great days on the river last year by staying on the fish and their changes to the conditions on both the ever changing river and also Lake pepin. It's always great to have a group of guys to work with and share information on what's happening each day on the river.
Now to the new year. The last two weeks I've been on the ice most of the time chasing panfish. Each day has been different and also different locations looking for a great bite. We have had some great days out there and some slow days but the good news we have not had a skunk on the ice.
Marty and I shared a trip last week on the ice with Dave and his wonderful fiancé Dagmar. What a blast these two were to have on the ice with us. Very entertaining and some great fishing stories about other guided trips they have been on. They both reeled in several fish today with Dagmar catching the biggest crappie today out of the two. Fun time you two and I look forward to getting you out on the boat this spring.
I have started to fish some area lakes as of late expanding my fishing experience. It seems to be a good choice since I have been producing some panfish in these area also. Nothing fast a furious but taking home a good meal has not been a problem so far. I will be out searching on the ice for a while with the colder temps coming up so the boat will stay dry for now.
As for the boat I got out on the river on Wednesday and put my first keeper in the boat of 2020 on a jig tipped with a plastic. The bite was slow but I think I managed to put 8 fish in the boat casting the jigs around the ice chunks floating down the river. Water depth was about 22-25 ft I caught my fish in.
Im looking forward to the year 2020 in the boat especially with the numbers of 14 inch walleye we caught last year should make 2020 a phenomenal year on the ole river . Water temperature I had in the boat was 31.9 and the stage on Wednesday was 6,2 feet . It's treding down right now so it should make things come around soon with the fish starting to make a movement up the river system out of the lake.
Good luck out there guys and gals !!!