Fish On! With Denver's Mississippi River Guide Service!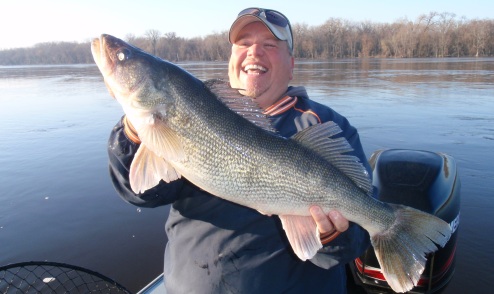 Mississippi River & St. Croix River Fishing Guide Denver McKinnon. Over 38 years of experience!
Denver has been fishing the Mississippi River system for over 38 years. With a lot of experience on the river, Denver feels that guiding is the best way to pass on the Mississippi River and St. Croix river knowledge he has gained over the years.
Whether interested in bring home fish for dinner or looking for a trophy, Denver will do his best to provide you with a happy and exciting day. You can choose the target species between Walleyes, Sauger, and Crappie. The techniques you learn with Denver will help you when you are out on your own on the Mississippi River and St. Croix River. Denver guides on the Pool 2 (St. Paul), Pool 3 (Hastings), and Pool 4 (Red Wing) of the Mississipi River. He also guides on the St. Croix from Hudson all the down to Hastings. Book a trip today with Denver's guide Service, and let your Mississippi or St. Croix River fishing adventure begin!
Check out Denver's recent Mississippi River fishing reports. He adds a report almost each time he is out, so check back often to see what the fish are up to! Also, take a look at his Mississippi River trip logs to see stories from his client trips and testimonials!
"Thanks again so much for a great day fishing. My dad and I had a great time. Good luck with the softball in Mankato and drive safe." - Matt (Red Wing trip 09/23/11)
Ice fishing report over the holidays
Saturday, December 31, 2016
Took a little break from the boat the last two weeks to take a dab at some ice fishing
fished pools 3,4,8 and 9. In some places the bite was great and others you really had to work for your fish Most of the time I used no bait to catch my crappies but when fishing for the blue hills we used waxie to get them to strike We fished in water d Otis as shallow as 3 ft to other areas thawrnt to 13 ft. The flasher was a must when we were in the deeper water
Robert and Dillon it was an absolute blast going out with you and your friends ice fishing I have pictures of some of our catch from the last week with a couple kids that we fished with first was Gavin with a nice sauger he had pulled up and also Carson with his first fish of the day. Very good mannered kids we had on the ice with us. Wade keep that boy fishing he seemed to really have fun.
This week gonna try and get back into the boat and target walleyes again hopefully the extreme cold weather stays away.
Good luck out there guys and gals!!!!!!!