Fish On! With Denver's Mississippi River Guide Service!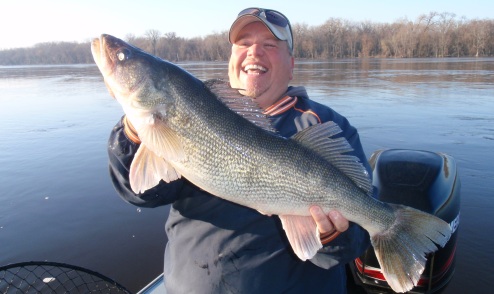 Mississippi River & St. Croix River Fishing Guide Denver McKinnon. Over 38 years of experience!
Denver has been fishing the Mississippi River system for over 38 years. With a lot of experience on the river, Denver feels that guiding is the best way to pass on the Mississippi River and St. Croix river knowledge he has gained over the years.
Whether interested in bring home fish for dinner or looking for a trophy, Denver will do his best to provide you with a happy and exciting day. You can choose the target species between Walleyes, Sauger, and Crappie. The techniques you learn with Denver will help you when you are out on your own on the Mississippi River and St. Croix River. Denver guides on the Pool 2 (St. Paul), Pool 3 (Hastings), and Pool 4 (Red Wing) of the Mississipi River. He also guides on the St. Croix from Hudson all the down to Hastings. Book a trip today with Denver's guide Service, and let your Mississippi or St. Croix River fishing adventure begin!
Check out Denver's recent Mississippi River fishing reports. He adds a report almost each time he is out, so check back often to see what the fish are up to! Also, take a look at his Mississippi River trip logs to see stories from his client trips and testimonials!
"Thanks again so much for a great day fishing. My dad and I had a great time. Good luck with the softball in Mankato and drive safe." - Matt (Red Wing trip 09/23/11)
Mississippi and St Croix fishing repirt
Monday, August 22, 2016
Today I launched out of Hastings on pool 3 for some walleye fishing. garret and his two sons Tate and Jace joined me for today's trip.
After fishing the Mississippi River for a couple hours we decided to head up into the Croix to find cleaner water with all the rains we have had of late. Glad we made that decision because the walleyes and small mouth bass were on a tear today in my vessel. These two boys and their dad seemed to be putting in bait every time I turned around. So much we ran out of bait.
Garret had the biggest smallmouth today and Jace had the biggest walleye not to leave Tate out who ended up with the biggest sheepshead. Seemed all three of these gentlemen really enjoyed the time on the water and I am glad they picked me to go out with to catch their first ever walleyes. Today the boys learned what patients can reward you with when fishing. Great time on the watt gentlemen. See you boys next time.
Goid luck out there guys and gals!!!!!