Fish On! With Denver's Mississippi River Guide Service!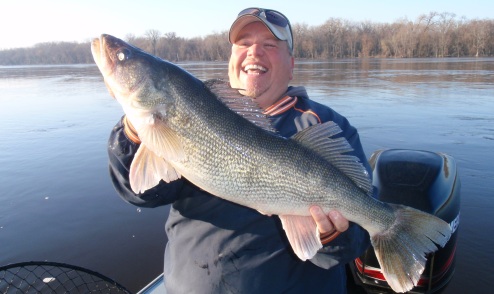 Mississippi River & St. Croix River Fishing Guide Denver McKinnon. Over 38 years of experience!
Denver has been fishing the Mississippi River system for over 38 years. With a lot of experience on the river, Denver feels that guiding is the best way to pass on the Mississippi River and St. Croix river knowledge he has gained over the years.
Whether interested in bring home fish for dinner or looking for a trophy, Denver will do his best to provide you with a happy and exciting day. You can choose the target species between Walleyes, Sauger, and Crappie. The techniques you learn with Denver will help you when you are out on your own on the Mississippi River and St. Croix River. Denver guides on the Pool 2 (St. Paul), Pool 3 (Hastings), and Pool 4 (Red Wing) of the Mississipi River. He also guides on the St. Croix from Hudson all the down to Hastings. Book a trip today with Denver's guide Service, and let your Mississippi or St. Croix River fishing adventure begin!
Check out Denver's recent Mississippi River fishing reports. He adds a report almost each time he is out, so check back often to see what the fish are up to! Also, take a look at his Mississippi River trip logs to see stories from his client trips and testimonials!
"Thanks again so much for a great day fishing. My dad and I had a great time. Good luck with the softball in Mankato and drive safe." - Matt (Red Wing trip 09/23/11)
Mississippi River walleyes and sauger report
Sunday, April 5, 2020
As everyone in this country and throughout the world are being effected by the COVID-19 the only thing that has me and many others keeping our sanity is being able to go out fishing. Fishing will help you relieve your stress level it is so relaxing and just being outdoors as long as you can keep your distance from others is enjoyable.
I Have had a pretty good bite the last 10 times out on the river. There seems to be a pretty good stream of both walleye and sauger that have moved out of Lake Pepin and into the spawning areas of the Mississippi River on pool 4. You can catch these fish doing several techniques this time of the year. Pulling rapalas on three ways is one way I did this during the last week. Brice, Casey and Kendra got to bring in some dandy sauger today doing just that. They learned today if you check your baits so often to make sure they were clean of debris you would be successful bringing fish in. It was a great time teaching your grand kids Mr Franz and I look forward to another day out there with them .
The next technique I've fished this week is Dubuque rigging. Again pretty much keep it clean and you will be able to take a few fish home for the frying pan. I have done this technique the most due to the rising water levels as of late. Over the last 7 days alone it has risen 4 ft. That means major adjustment each day you go out. And each day and spot I've fished I have payed attention to my Garmin 93 sv plus units to let me know what the walleye and sauger are doing. My next choice is using my 5'10 mpg limit creek fishing rods for this technique. I am a firm believer that with the weight of this rod and light reel combo makes it so successful on feeling the lightest bites when Dubuque rigging.
The next way you can get the walleye and sauger to bite is pitching jigs to shallow areas that the walleye are trying to check out for the spawn. This will get better and better as the river temperatures rise with the warmer temps in the horizon. You will also be able to stab into a few white bass since they have started making their run up into the river now. This is the time of year we generally start seeing plenty of bigger fish being reported being caught. Keep them in the water as long as possible before taking pictures and releasing
Now that the river on both sides have changed to a slot limit and also new bag limits here they are. Walleye have to be 15-20 inches long. And their is a 4 fish limit on this combo between walleye and sauger. One of your fish can be over 20 inches and that will be either a walleye or sauger. I'm betting several anglers have been checked on this already this season and did not know the new regulations.
You can check my photos on my Facebook page due to the COVID -19 I cant get my web page checked out till this pandemic is over.
Everyone be safe on the water, there are several dead heads floating around with these levels. Don't ruin your experience on the water due to just driving to fast. Water temperature is right around 41 degrees and the clarity is right at a foot and a half.
Good luck out there guys and gals !!!