Fish On! With Denver's Mississippi River Guide Service!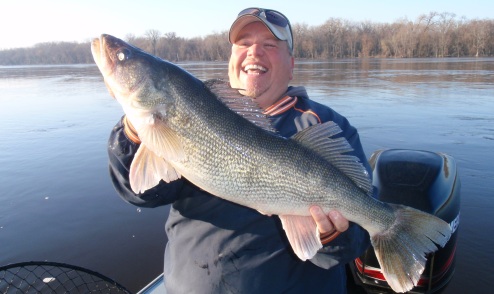 Mississippi River & St. Croix River Fishing Guide Denver McKinnon. Over 38 years of experience!
Denver has been fishing the Mississippi River system for over 38 years. With a lot of experience on the river, Denver feels that guiding is the best way to pass on the Mississippi River and St. Croix river knowledge he has gained over the years.
Whether interested in bring home fish for dinner or looking for a trophy, Denver will do his best to provide you with a happy and exciting day. You can choose the target species between Walleyes, Sauger, and Crappie. The techniques you learn with Denver will help you when you are out on your own on the Mississippi River and St. Croix River. Denver guides on the Pool 2 (St. Paul), Pool 3 (Hastings), and Pool 4 (Red Wing) of the Mississipi River. He also guides on the St. Croix from Hudson all the down to Hastings. Book a trip today with Denver's guide Service, and let your Mississippi or St. Croix River fishing adventure begin!
Check out Denver's recent Mississippi River fishing reports. He adds a report almost each time he is out, so check back often to see what the fish are up to! Also, take a look at his Mississippi River trip logs to see stories from his client trips and testimonials!
"Thanks again so much for a great day fishing. My dad and I had a great time. Good luck with the softball in Mankato and drive safe." - Matt (Red Wing trip 09/23/11)
Walleye and sauger fishing report
Monday, February 13, 2017
You sure can tell when the warmer weather comes. The fishermen really start to hit the river hard when those temps rise above 40.
Over the last week or so I have had a few guided trips and thankfully the Walleye's and saugers that I have been fishing the last month have bot disappeared. With that being said I would like to add that getting stuck in one area can break you this time of the year with the water clarity being so good the fish will get spooked
Jake,John, and Thad gave me a call and told me they booked cabin number 1 at Everts Resort for on Friday night so we could fish all day Saturday I met up with the boys at 8 am and off we were to test our skills today. Not an easy bite to start the day for my vessel but after a few location changes today we got into a very nice bunch of Walleye's and saugers. We caught our fish dragging, pitching jigs and vertical jigging. Each area had its different presentation that produced our walleyes. It was a great time gentlemen and I would like to say good Luck with your football career Jake I look forward to watching you on the tube.
Monday Huck, Joel, and big fish Gary met me at the resort. We did same as Saturday moving around to spots that were holding Walleye's and saugers. Jumping around looking for the aggressive fish seems to be the answer right now with the water conditions Joel started out hot today but by the end of the day I believe Gary had the hottest hand boating several late day Walleye's to finish off the limit. Fun day gentlemen and I look forward to another day out on the river with you.
Water temperature as of late has been fluctuating due to the temperature changes. The water level is finally below 4 foot for the first time this winter and the clarity is about 3.8 feet.
Good luck out there guys and gals !!!!!!