Fish On! With Denver's Mississippi River Guide Service!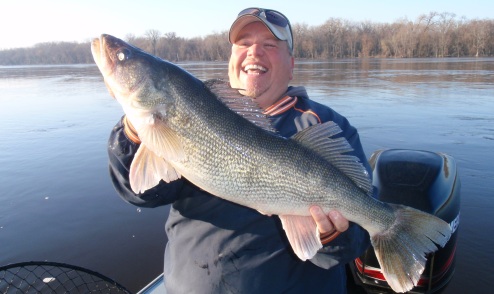 Mississippi River & St. Croix River Fishing Guide Denver McKinnon. Over 38 years of experience!
Denver has been fishing the Mississippi River system for over 38 years. With a lot of experience on the river, Denver feels that guiding is the best way to pass on the Mississippi River and St. Croix river knowledge he has gained over the years.
Whether interested in bring home fish for dinner or looking for a trophy, Denver will do his best to provide you with a happy and exciting day. You can choose the target species between Walleyes, Sauger, and Crappie. The techniques you learn with Denver will help you when you are out on your own on the Mississippi River and St. Croix River. Denver guides on the Pool 2 (St. Paul), Pool 3 (Hastings), and Pool 4 (Red Wing) of the Mississipi River. He also guides on the St. Croix from Hudson all the down to Hastings. Book a trip today with Denver's guide Service, and let your Mississippi or St. Croix River fishing adventure begin!
Check out Denver's recent Mississippi River fishing reports. He adds a report almost each time he is out, so check back often to see what the fish are up to! Also, take a look at his Mississippi River trip logs to see stories from his client trips and testimonials!
"Thanks again so much for a great day fishing. My dad and I had a great time. Good luck with the softball in Mankato and drive safe." - Matt (Red Wing trip 09/23/11)
Mississippi pools 3 and 4 walleye report
Monday, September 5, 2022
The last couple weeks it seemed the walleye wanted to be a little stubborn at times. Changing techniques was a must for my boat. The one thing I can tell you is the fish are exactly where you are seeing them on the electronics you just need to figure out what lures or bait they want to strike.

I spent almost two straight weeks fishing pool 3 from wing dam fishing to pulling cranks on sand flats. When wing dam fishing I threw jointed Shad raps, KVD cranks, bombers, and flicker Shad's at them. Each day was different in what crank they wanted. I also threw just a jig and a crawler/leeches at them to get the walleyes to bite. Again each day was different in what the wanted.
I was trying to pick wing dams that the flow on them and as the water came up a half foot I had to adjust with where the walleyes would sit on each wing dam. As like in fishing anywhere else always keep your eye out on if you see bait fish being chased in the area this should let you know where to cast to increase your baits being in the right strike zone. One big hint to let everyone know is I caught many of my walleyes right by the boat atleast 50 feet above the wing dams. Work the bat all the way to you.

I have had several folks in the boat over the last couple weeks and we have made some great memories together with all the laughter at times. It is always a blast getting folks in the boat that are so competitive. This makes my day watching everyone talk trash about who's got the biggest, most or even smallest fish in the boat. Fun times everyone and this is why I love what I get to do.

We are starting to lose daylight so things we begin to go to fall time mode with walleye and sauger run soon. They will have the feed bag on and it will be a fun fall season like last year is what we hope for. Keep in mind it's gonna be busy soon so try and be respectful to each other. The good news is the pleasure craft traffic will start to diminish.

The water clarity has been good at times and others pretty bad. As of Friday I came back around and I seen a huge difference in how the walleye responded to my baits. The water level has dropped backdown to 2.5 which means be extremely cautious on where you are making your runs in the back channel. Always pay attention when driving around I have found new logs on pool 4 lately that were not in these places a month ago.

Good luck out there guys and gals !!!!!!