Fish On! With Denver's Mississippi River Guide Service!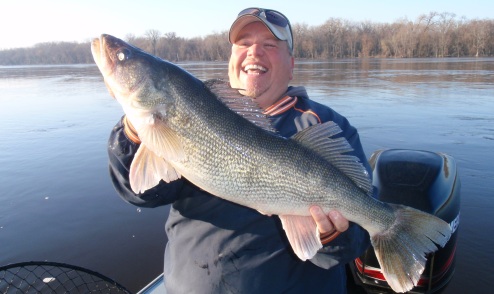 Mississippi River & St. Croix River Fishing Guide Denver McKinnon. Over 38 years of experience!
Denver has been fishing the Mississippi River system for over 38 years. With a lot of experience on the river, Denver feels that guiding is the best way to pass on the Mississippi River and St. Croix river knowledge he has gained over the years.
Whether interested in bring home fish for dinner or looking for a trophy, Denver will do his best to provide you with a happy and exciting day. You can choose the target species between Walleyes, Sauger, and Crappie. The techniques you learn with Denver will help you when you are out on your own on the Mississippi River and St. Croix River. Denver guides on the Pool 2 (St. Paul), Pool 3 (Hastings), and Pool 4 (Red Wing) of the Mississipi River. He also guides on the St. Croix from Hudson all the down to Hastings. Book a trip today with Denver's guide Service, and let your Mississippi or St. Croix River fishing adventure begin!
Check out Denver's recent Mississippi River fishing reports. He adds a report almost each time he is out, so check back often to see what the fish are up to! Also, take a look at his Mississippi River trip logs to see stories from his client trips and testimonials!
"Thanks again so much for a great day fishing. My dad and I had a great time. Good luck with the softball in Mankato and drive safe." - Matt (Red Wing trip 09/23/11)
Love this time of the year
Friday, October 21, 2016
This week has been everything I look forward to in the fall. The walleyes are on a tear eating the baits I am presenting to them.
Sunday morning I stopped by and pick up Ott and headed down to the river where Taelor met us at the launch. We headed down river to do some trolling with the 8'3 limit creek trolling rods. I try and explain to everyone these rides are perfect when trolling the rig with 8 lb fire line Makes a difference on your catch rate when trolling with a rod with a little more give to it when pulling hard line. These gentlemen told me at the end of the day it was an absolute blast fishing today and in my job that's a great thing to hear. See you guys next time really enjoyed watching your excitement in the boat today.
Tuesday Jorrdan and his Father joined me at Everets resort we started our day throwing cranks at points at the bite for walleyes doing this technique was a little slow but the white bass where on a tear Fun to catch them but we were after another species today We then went to trolling cranks and it was a good choice the boys boated several walleyes today and even some nice sized saugers Chris and Jordan I'm glad you got to enjoy a great day off work with me on the river did the first time It is a great fishery it just takes time to lrearn the ins and outs of what to do at certain times of the year Great time guys
Wednesday Young Sam and his father hounded me for the second time this year We started out Dubuque rigging today and we caught several fish this morning fishing this technique It seemed like the fish were coming in phases one minute we were catching white bass then it would switch to walleyes and saugers This pattern happened most of the morning After a couple hours we decided to go look for bigger fish. Great decision the trolling bite was on fire again today The walleyes and sauger biting this way are absolutely crushing the cranks and with the cooler water temperatures the are really fighting hard coming in Sam it was a blast taking you and your dad today and I look forward to the next time we get out you guys are a blast to take out and it's great you cherish the time you have with your dad Good luck with your hockey season
Thursday was the tough day for me and the family. Today we lost me dad. He was the main reason I loved to fish so much. He took me as a toddler and as time went no matter what he would always wake up when I asked him to take me and my brother and sister fishing. Those times can never be forgotten Dad I love you with all my heart and know you are now back with mom in heaven. I have some Picts of my dad below in his happy place out fishing on the water