Fish On! With Denver's Mississippi River Guide Service!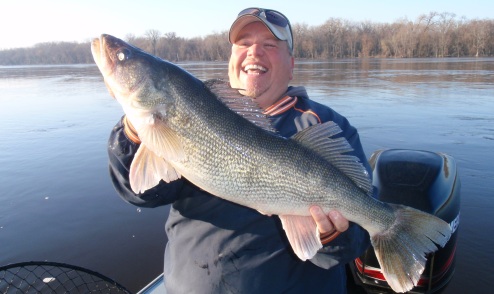 Mississippi River & St. Croix River Fishing Guide Denver McKinnon. Over 38 years of experience!
Denver has been fishing the Mississippi River system for over 38 years. With a lot of experience on the river, Denver feels that guiding is the best way to pass on the Mississippi River and St. Croix river knowledge he has gained over the years.
Whether interested in bring home fish for dinner or looking for a trophy, Denver will do his best to provide you with a happy and exciting day. You can choose the target species between Walleyes, Sauger, and Crappie. The techniques you learn with Denver will help you when you are out on your own on the Mississippi River and St. Croix River. Denver guides on the Pool 2 (St. Paul), Pool 3 (Hastings), and Pool 4 (Red Wing) of the Mississipi River. He also guides on the St. Croix from Hudson all the down to Hastings. Book a trip today with Denver's guide Service, and let your Mississippi or St. Croix River fishing adventure begin!
Check out Denver's recent Mississippi River fishing reports. He adds a report almost each time he is out, so check back often to see what the fish are up to! Also, take a look at his Mississippi River trip logs to see stories from his client trips and testimonials!
"Thanks again so much for a great day fishing. My dad and I had a great time. Good luck with the softball in Mankato and drive safe." - Matt (Red Wing trip 09/23/11)
The mighty Mississippi River amazes me everyday
Saturday, June 5, 2021
The big river amazes me everyday I use her for my fun. Since my last report I have seen so many changes with not only the way the bite has changed but how the pathways we use each day to travel on her. Water levels have been like a small roller coaster as of late and I have noticed many new logs and sand bars us anglers need to pay attention to so we don't get stuck on them or even lose a lower unit. Be extremely careful fello anglers.

As for the changes the fish have done I went from trolling the rig everyday to pulling bottom bouncers and three ways with Phelps floaters to dragging jigs to catch our walleye and sauger on my vessel. I have had some newer folks to these techniques and also some very experienced. Once you get it figured out what to do when they hit you will start to put lots of walleye and sauger in your boat.

The last couple weeks have been just about everything a guide could want to happen with the numbers of fish we have had the opportunity to put in the boat. We have gone from catching an amazing number of big sauger to now catching lots of walleye ranging from 9 to 29 3/4 inches. You never know what size fwalleye you could be rewarded when fishing the mighty Mississippi River on pools 3 or 4.

The water depths we have been concentrating on as of late has been 2-10 ft. Yes I said 2 feet. These walleye have been pouring through areas on the way back to lake pepin. Believe in your electronics. If you are marking them it's a good idea to switch things up to try something else to trigger the bite. I see guys out there that say they struggled and I can come up with one answer. Stuck in a rut fishing the same way all the time. Give it a shot you never know what will happen.

I would like to thank everyone who has chosen my guide service over the last couple weeks and am glad to see you enjoy your day out on the water with me. I have to mention a few names due to some dandy walleyes they have brought into the boat. Let's start with Tom Urbanik who like to wait til the end of the day each time to get a giant. He had a 27 1/2 inch walleye on may 21 st. Wish we could of seen the second one you had on right afterward. Keep the line tight Tommy. Next is Bob from Hamburg Iowa. Both him and Lori (Rita) had back to back 23 incher.
Well about two drifts later Rita topped that one off with a 29 3/4 incher. there's a great story to this walleye. Lori grabs the her rod and says I think I'm snagged and as I look I thought I seen it have a big head shake. I walk over to her as the drag is running rugged on the reel. She hands the rod to me I feel a big head shake and say here ya go Lori that's no snag. She tries to reel and I look out and this fish is headed straight upstream into the current I tell Bob and Dean to reel their rods in and chase this fish down. We finally catch up to this giant. Lori starts making ground on it after she thought she lost it. I see the big white tip tail flash and say hey it's a giant walleye. Well Lori lifts it up and as this happens the wind blowing hard I look and the head on this beast is laying on my 9.9 kicker prop. Im trying to get this net in the best position as fast as I can and low and behold she flaps off the prop and into the net. At this point I'm so relieved we have this walleye and I bring it around and Lori gets a good look at it. She sits down immediately from the addreniline rush and reflected on the moment, These are the reactions that make my day as a guide. It is so exciting to see someone really enjoy the outdoors. Dean your time will come. Like you said she seems to always get the big fish when y'all make the trip up. Maybe you get your chance on our three day outing in October.

What a fun couple weeks we have had folks again thank you for choosing my guided service and I look forward to our future outings. Water temp has made it up to 68 degrees again. Summer time techniques are in full swing and now we have a mayfly hatch.

good luck out there guys and gals!!!!!