Fish On! With Denver's Mississippi River Guide Service!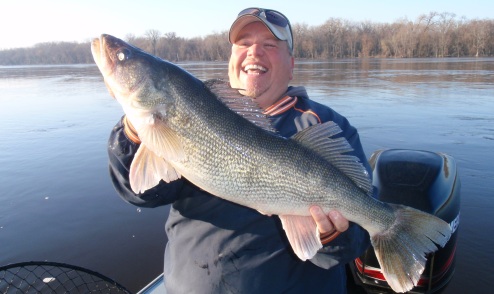 Mississippi River & St. Croix River Fishing Guide Denver McKinnon. Over 38 years of experience!
Denver has been fishing the Mississippi River system for over 38 years. With a lot of experience on the river, Denver feels that guiding is the best way to pass on the Mississippi River and St. Croix river knowledge he has gained over the years.
Whether interested in bring home fish for dinner or looking for a trophy, Denver will do his best to provide you with a happy and exciting day. You can choose the target species between Walleyes, Sauger, and Crappie. The techniques you learn with Denver will help you when you are out on your own on the Mississippi River and St. Croix River. Denver guides on the Pool 2 (St. Paul), Pool 3 (Hastings), and Pool 4 (Red Wing) of the Mississipi River. He also guides on the St. Croix from Hudson all the down to Hastings. Book a trip today with Denver's guide Service, and let your Mississippi or St. Croix River fishing adventure begin!
Check out Denver's recent Mississippi River fishing reports. He adds a report almost each time he is out, so check back often to see what the fish are up to! Also, take a look at his Mississippi River trip logs to see stories from his client trips and testimonials!
"Thanks again so much for a great day fishing. My dad and I had a great time. Good luck with the softball in Mankato and drive safe." - Matt (Red Wing trip 09/23/11)
Mississippi River pool 4 walleye and sauger report
Sunday, October 3, 2021
Over the last two weeks I have noticed the changes to the system and how the fish have started to do their fall run. I have been mainly trolling the rig as of late boating several walleye and sauger in water depths from 8-14 foot. Most of the time I have noticed going right around the 2 mile an hour mark has been key to getting the fish to snap at my baits. Fish size changed all day long. One minute we are boating shorts and ten minutes later you can get a triple of all three fish being over 15 inches. This is why I love this time of the year patients is everything.

Now to the water conditions. The river is still very low which makes getting around a little more difficult on the system for this time of the year. Be extremely vigilant and your surroundings while traveling around. This week I seen several tourney guys get into predicaments they didn't need to be in due to not knowing the system. Be very careful. Our level at beginning of the week was 2.8. We are now back down to 2.3 foot.

Water temperatures have actually rose a little this week from 66 to 69. I see in the future the nights will be down in the 50's so that should hop cool it down a bit bit slowly. The sun not being out as long during day helps with this too. All these changes have made the run of the fish into the river a little earlier this year atleast at the head of the lake for now.

I would like to thank all the clients that have joined me the last few weeks in my vessel. Way to many to mention all the names. I have also had a couple new guys that don't fish much that seemed to have great days on the water for their first time boating several nice walleye and saugers. You can go to my Facebook page to see all the smiles due to my web site not downloading my Picts. Soon to be fixed.

Go out and enjoy the fall run of fishing and good luck guys and gals!!!!!!