Fish On! With Denver's Mississippi River Guide Service!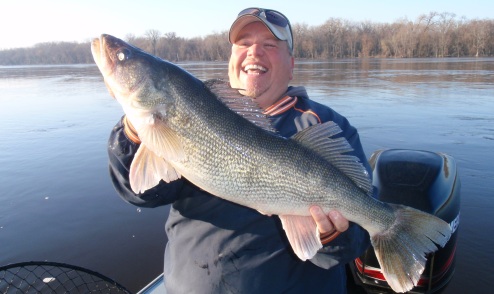 Mississippi River & St. Croix River Fishing Guide Denver McKinnon. Over 38 years of experience!
Denver has been fishing the Mississippi River system for over 38 years. With a lot of experience on the river, Denver feels that guiding is the best way to pass on the Mississippi River and St. Croix river knowledge he has gained over the years.
Whether interested in bring home fish for dinner or looking for a trophy, Denver will do his best to provide you with a happy and exciting day. You can choose the target species between Walleyes, Sauger, and Crappie. The techniques you learn with Denver will help you when you are out on your own on the Mississippi River and St. Croix River. Denver guides on the Pool 2 (St. Paul), Pool 3 (Hastings), and Pool 4 (Red Wing) of the Mississipi River. He also guides on the St. Croix from Hudson all the down to Hastings. Book a trip today with Denver's guide Service, and let your Mississippi or St. Croix River fishing adventure begin!
Check out Denver's recent Mississippi River fishing reports. He adds a report almost each time he is out, so check back often to see what the fish are up to! Also, take a look at his Mississippi River trip logs to see stories from his client trips and testimonials!
"Thanks again so much for a great day fishing. My dad and I had a great time. Good luck with the softball in Mankato and drive safe." - Matt (Red Wing trip 09/23/11)
Bite is still going strong even with the conditions
Wednesday, December 7, 2016
The last couple outings on the river have been going good still just need to change techniques to put fish into the livewell
The river had been rising again and the temperatures outside have been falling steadily, this also means most guys are outting boats away and pulling out their ice fishing gear. Remember I said most some of us are hard core open water fisherman and never stop going out in the boat. I do ice fish a little but not as much as I did when I was younger
Monday Steve and Mike joined me at Everets resort and we heard out before the big cold front came in. We Steve had the hot hand today boating several fish miller rigging. We caught most of our fish in water depths from 10 to 18 foot today. I did notice speed was a major factor to put them in the boat. You should always pay attention to your speed when someone gets a fish hooked up. It could make or break you that day. Great time guys and glad you enjoyed our time on the river.
The river has risen quite a bit fir this time of the year We are at 7.3 ft and the water temperature is running at 40 degrees. Clarity of the river is awesome you can see at least 12 inches if not more. The rollers are wide open again so watch out for debree floating.
Good luck out there guys and gals !!!!!!!