Fish On! With Denver's Mississippi River Guide Service!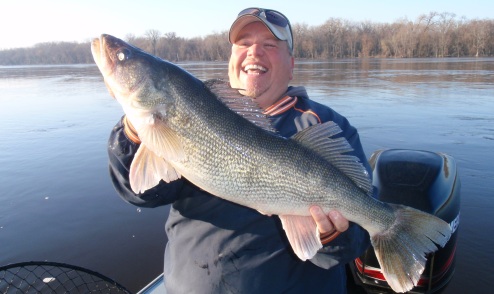 Mississippi River & St. Croix River Fishing Guide Denver McKinnon. Over 38 years of experience!
Denver has been fishing the Mississippi River system for over 38 years. With a lot of experience on the river, Denver feels that guiding is the best way to pass on the Mississippi River and St. Croix river knowledge he has gained over the years.
Whether interested in bring home fish for dinner or looking for a trophy, Denver will do his best to provide you with a happy and exciting day. You can choose the target species between Walleyes, Sauger, and Crappie. The techniques you learn with Denver will help you when you are out on your own on the Mississippi River and St. Croix River. Denver guides on the Pool 2 (St. Paul), Pool 3 (Hastings), and Pool 4 (Red Wing) of the Mississipi River. He also guides on the St. Croix from Hudson all the down to Hastings. Book a trip today with Denver's guide Service, and let your Mississippi or St. Croix River fishing adventure begin!
Check out Denver's recent Mississippi River fishing reports. He adds a report almost each time he is out, so check back often to see what the fish are up to! Also, take a look at his Mississippi River trip logs to see stories from his client trips and testimonials!
"Thanks again so much for a great day fishing. My dad and I had a great time. Good luck with the softball in Mankato and drive safe." - Matt (Red Wing trip 09/23/11)
Back and fourth from fishing to deer hunting
Sunday, November 28, 2021
Over the last month I have really done what every man loves to do and that fish and deer hunt day after day. It does wear a 52 about to be 53 year old man down don't get me wrong. I have had some great experiences doing both things this month.

Hunting every year with my brother and his family is always a great time. My girls both hunt also so I make sure they get there chances and I sit back and let the kids have first or say best chances at getting a trophy. Both of my girls had chances a nice bucks on that opening weekend but did not bring down the prize. I actually was sitting with Helen and her second chance on Sunday. We got busted by the big buck and she tried to get him running but missed him. There's always another day I told her this happens to every deer hunter. Thanks Pam for taking care of me all week and I look forward to it every year.

Now to coming back for a week and fishing on the river. Well it was every part of awesomeness to return to a very good bite as when I left to go hunt. I again pulled three ways with raps and also Miller rigs to put fish in the boat quickly. However as these water temps lower those techniques will start to go away and you will need to adjust to more of a vertical presentation. I love this at this time of the year due to the walleye and sauger will absolutely destroy your bait.

Also with the water clarity getting clearer you will also need to adjust to water depths you fish. The night time bite will really kick into gear as this continues to happen. It all depends on how and what time of days you want to fish. When I do the night time fishing I use jig heads between 3/16 to 1/2 depending on the current. Ring worms will be a good choice of plastic to use. Finding right color can and will make you a hero each time you go if you find the right pattern. Don't be afraid to go from 4-16 foot in the dark that over the years has been the most successful for my vessel.
Last but not least I'd like to thank Nick Carrol and his wonderful family for giving me such a great experience hunting deer in Wisconsin the last two weeks. I never got the big buck I wanted to shoot but I had many and I say many chances to shoot deer in the stand. Many many laughs sitting in the blind with Nick. They took me in like I was part of the family. Kristen thank you for feeding us during my time there you are a great host.
Good luck out there guys and gals !!!