Fish On! With Denver's Mississippi River Guide Service!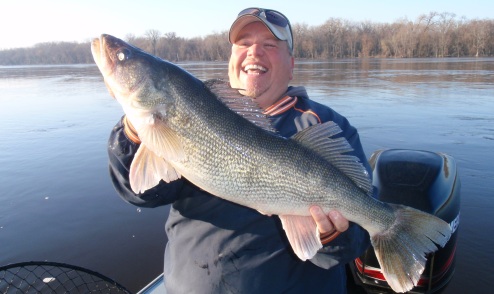 Mississippi River & St. Croix River Fishing Guide Denver McKinnon. Over 38 years of experience!
Denver has been fishing the Mississippi River system for over 38 years. With a lot of experience on the river, Denver feels that guiding is the best way to pass on the Mississippi River and St. Croix river knowledge he has gained over the years.
Whether interested in bring home fish for dinner or looking for a trophy, Denver will do his best to provide you with a happy and exciting day. You can choose the target species between Walleyes, Sauger, and Crappie. The techniques you learn with Denver will help you when you are out on your own on the Mississippi River and St. Croix River. Denver guides on the Pool 2 (St. Paul), Pool 3 (Hastings), and Pool 4 (Red Wing) of the Mississipi River. He also guides on the St. Croix from Hudson all the down to Hastings. Book a trip today with Denver's guide Service, and let your Mississippi or St. Croix River fishing adventure begin!
Check out Denver's recent Mississippi River fishing reports. He adds a report almost each time he is out, so check back often to see what the fish are up to! Also, take a look at his Mississippi River trip logs to see stories from his client trips and testimonials!
"Thanks again so much for a great day fishing. My dad and I had a great time. Good luck with the softball in Mankato and drive safe." - Matt (Red Wing trip 09/23/11)
Fun times are starting on the river
Sunday, October 9, 2022
Last week I was contacted by Javier from the outdoor news for a quick tip of the week. Well if you read the tip and set out on the river you would see that I was spot on with this tip. The cooler water temps combined with lower sun levels and full moon phase has kicked the fall bite into gear.

Every year this happens on the river system and if you are out there 5 - 6 days a week like some of us have chosen to do you notice these changes happening. Not only are the walleye and sauger starting the fall runs but crappies and perch are headed to the wintering holes and can be targeted each day. It's just a great time of the year to catch many species of fish with the fall feeding frenzy kicking into gear.

Although I don't mention every fishermen that gets into my boat I appreciate every one of the ladies and gentlemen that do. Two Friday's ago I had Jerry, Jay and Kenny in the boat. We boated some walleyes on this early morning but the gentlemen said they would like to try to get a big catfish. So I headed to an area that I've gotten them several ti es in September and boy the couple we got did not disappoint. Jerry pulled the first one in and it was about 8-9 lbs. Jay wanted to try this out so I filleted this one up.
Now to the second one. Jay sets the hook and I knew this had to be either a flathead or a sturgeon. Well after Jay fought this fish for a few minutes his arm started to cramp up so he then passed it over to Kenny. Kenny battled this flathead for about 15 minutes or so towards the end of the battle Kenny says you might have to take this over Denver. My reaction to Kenny was she about out of energy Kenny you got this. Well that worked out perfectly due to I needed to be on the net job. The flatly presented herself to the surface and I got her on the first try. Just getting the head of her in the net was my big move then I told Jay put the second net behind that tail. I was then able to pull her into the boat. She was a whopping 46 lbs. What a group effort we had today on boating her. We took pictures and let her go for another angler to battle in the future.

Now to walleye and sauger techniques working right now. I have been trolling the rig with jsr 5 rapalas on the rig. I have also vertical jigged fish up with hair and minnows and also blade baits. Remember if you mark the fish try different techniques you may be rewarded in every spot you fish this time of the year. Also if you see them one day pay attention to time of day your catching them. Fish that same area next day. I've found many little schools that I fished in the mornings lately that did not bite early. Went back later and the bite was on like donkey Kong.

Water depths I have fished range from 4 -18 ft lately. The water temperature is finally down to about 62 degrees. Once she gets into the 50's the bite will even heat up more. I see some warmer temps this week again so that may be another week out.

You can check out my pictures on Facebook right now until I get my webpage updated so it will take pictures again. And like always be safe out on the water and vigilant of your surroundings the river stage is at 2.06 right now which is extremely low.

Good luck out there guys and gals !!!