Fish On! With Denver's Mississippi River Guide Service!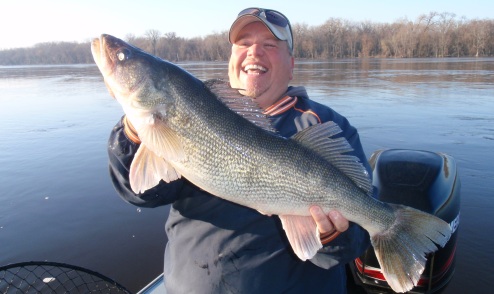 Mississippi River & St. Croix River Fishing Guide Denver McKinnon. Over 38 years of experience!
Denver has been fishing the Mississippi River system for over 38 years. With a lot of experience on the river, Denver feels that guiding is the best way to pass on the Mississippi River and St. Croix river knowledge he has gained over the years.
Whether interested in bring home fish for dinner or looking for a trophy, Denver will do his best to provide you with a happy and exciting day. You can choose the target species between Walleyes, Sauger, and Crappie. The techniques you learn with Denver will help you when you are out on your own on the Mississippi River and St. Croix River. Denver guides on the Pool 2 (St. Paul), Pool 3 (Hastings), and Pool 4 (Red Wing) of the Mississipi River. He also guides on the St. Croix from Hudson all the down to Hastings. Book a trip today with Denver's guide Service, and let your Mississippi or St. Croix River fishing adventure begin!
Check out Denver's recent Mississippi River fishing reports. He adds a report almost each time he is out, so check back often to see what the fish are up to! Also, take a look at his Mississippi River trip logs to see stories from his client trips and testimonials!
"Thanks again so much for a great day fishing. My dad and I had a great time. Good luck with the softball in Mankato and drive safe." - Matt (Red Wing trip 09/23/11)
Walleye and sauger fishing report
Tuesday, June 23, 2020
It's been a while since I've sat down and wrote a fishing report. Been super busy and respect for my buddies fishing the walleyes tournaments as of late is the reason.
So let's start here. The fish are biting. I have been jumping between both pools three and four depending on wind, water levels and clarity. We have had lots of success dragging jigs and also pulling bottom bouncers. Each day has been different on what they wanted between leeches or night crawlers. I've used both floating jigs and slow death hooks as my presentation on the bottom bouncers. (My buddy Jevin hates this technique).

Water depth have varied between each pool, most of my walleye have come between 2 and 8 ft of water. When the water levels and water temps climb like they have it makes me find areas with a little more flow. I look for these areas because it will have more oxygen for the fish plus make ambush points for the walleye to target the bait fish. I have also fished wing dams lately due to these conditions with success.
I have had several clients in the boat lately catch their personal best walleye and even northern pike in my boat lately. I tell folks all the time the only way your catching a fish that size is being out here when they want to bite. Timing is everything especially since plenty of them have come after 10 a.m.. Paul 27 1/2, Brian 28 1/4, Barry and June with their first ever walleyes., Micheal with a 25, Bradley with a 24 and his son mitchel beat him late in the afternoon with a 25 1/2. Great catches everyone!!!
Now to the water levels. The river is the lowest it's been in a while so there are new objects and sand bars all over the place. Be sure you read the water as your traveling along I would hate to see you be down a boat for an extended period of time because your not paying attention. When In doubt slow down and take your time.
I'll try to keep up with the reports for y'all. Hope everyone is getting out a little more now that things are relaxing a bit.
Good luck guys and gals !!!