Fish On! With Denver's Mississippi River Guide Service!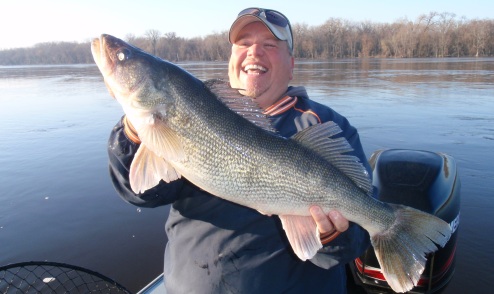 Mississippi River & St. Croix River Fishing Guide Denver McKinnon. Over 38 years of experience!
Denver has been fishing the Mississippi River system for over 38 years. With a lot of experience on the river, Denver feels that guiding is the best way to pass on the Mississippi River and St. Croix river knowledge he has gained over the years.
Whether interested in bring home fish for dinner or looking for a trophy, Denver will do his best to provide you with a happy and exciting day. You can choose the target species between Walleyes, Sauger, and Crappie. The techniques you learn with Denver will help you when you are out on your own on the Mississippi River and St. Croix River. Denver guides on the Pool 2 (St. Paul), Pool 3 (Hastings), and Pool 4 (Red Wing) of the Mississipi River. He also guides on the St. Croix from Hudson all the down to Hastings. Book a trip today with Denver's guide Service, and let your Mississippi or St. Croix River fishing adventure begin!
Check out Denver's recent Mississippi River fishing reports. He adds a report almost each time he is out, so check back often to see what the fish are up to! Also, take a look at his Mississippi River trip logs to see stories from his client trips and testimonials!
"Thanks again so much for a great day fishing. My dad and I had a great time. Good luck with the softball in Mankato and drive safe." - Matt (Red Wing trip 09/23/11)
Mid November walleye and sauger report
Monday, November 25, 2019
Since I got back from Deer hunting for 9 days I've been out in the mighty Mississippi River again with some great success.
I have been fishing both pool 3 and 4 since November 18 th. Each pool had its strengths in certain areas. Most of the walleye and sauger I've caught have been in water depths from 10-21 foot. Mostly Dubuque rigging with moxies and ringworms on pool 4. Pool 3 Vertical jigged up some nice walleyes and also long-lined ringworms to catch them.
Monday the 18 th Marty, Brett and I took out a group of gentlemen from South Carolina. These gentlemen have never caught a walleye before so we had to teach them some things but they all seemed to catch on quickly and we ended up putting quite a few fish in the boats for them to eat for dinner. Kevin, Doug and Johnny it was a blast taking you gentlemen out on the water and I look forward to another day in the future with y'all. Doug nice job on the big flat head catfish to boot.
I also had the pleasure of sharing my boat with Jay, Leif and Greg one day last week. What a great time as always gentlemen and nice job vertical jigging up some nice walleye guys. Your conversations are always educational for me each time we go fishing. Jay had the biggest fish today in both walleye and sauger. Way to stick with your plastic today for the bigger fish.
Carl ,Jay and Jerry met me out on pool 3 and wow Jerry absolutely put a s,ack down on some fish today. This man had a ten pound fish to boot. It was nice to meet you today Carl and I look forward to getting you out again with these two in the future. As always Jay and Jerry with you two gentlemen there is never a dull moment in the boat with our conversations. Great catch today boys not sure I can say I've had a quicker trip to a three man limit since I've been guiding. 18 keepers in less than 45 minutes. Spending rest of the days catch and release was fun too including Jerry's giant. His smile made my day.
Today I spent about an hour and a half on pool 4 checking a few areas out with Brian. We caught fish in each spot with Brian catching the biggest sauger we pictured and turned loose for another angler to catch. Way to go buddy!!! Thanks for the help with my Garmin set up today also.
Water temperature is between 34 and 36 degrees in most places. Clarity is different in each pool with some places 2 foot and some ar 1 foot. Moxies have been a good bait to use but hutches new Wally wackers put many fish in the boat too. My favorite color so far of the Wally walker is the ww09 Which is white glitter and purple tail and chartreuse tail. Nice job on the colors guys.
Good luck out there guys and gals !!!!