Fish On! With Denver's Mississippi River Guide Service!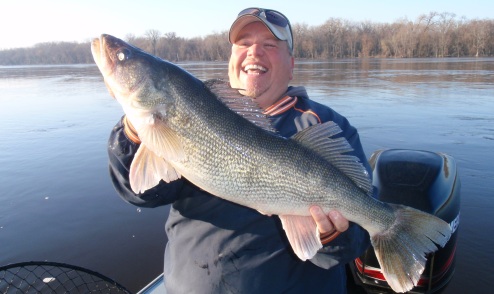 Mississippi River & St. Croix River Fishing Guide Denver McKinnon. Over 38 years of experience!
Denver has been fishing the Mississippi River system for over 38 years. With a lot of experience on the river, Denver feels that guiding is the best way to pass on the Mississippi River and St. Croix river knowledge he has gained over the years.
Whether interested in bring home fish for dinner or looking for a trophy, Denver will do his best to provide you with a happy and exciting day. You can choose the target species between Walleyes, Sauger, and Crappie. The techniques you learn with Denver will help you when you are out on your own on the Mississippi River and St. Croix River. Denver guides on the Pool 2 (St. Paul), Pool 3 (Hastings), and Pool 4 (Red Wing) of the Mississipi River. He also guides on the St. Croix from Hudson all the down to Hastings. Book a trip today with Denver's guide Service, and let your Mississippi or St. Croix River fishing adventure begin!
Check out Denver's recent Mississippi River fishing reports. He adds a report almost each time he is out, so check back often to see what the fish are up to! Also, take a look at his Mississippi River trip logs to see stories from his client trips and testimonials!
"Thanks again so much for a great day fishing. My dad and I had a great time. Good luck with the softball in Mankato and drive safe." - Matt (Red Wing trip 09/23/11)
Mississippi River pool 3 and 4 walleye report
Saturday, July 18, 2020
Over the last couple weeks we have had some major changes to the river system due to the monsterous rain falls. It had made it a challenge to try and catch walleye or anything else in the river system so for a while I headed down to lake pepin. Now we get to top that off with a major mayfly hatch. The perfect storm for the whole system.
On the lake I mainly trolled cranks both with my spin cast limit creek 8'3 rods and also with my lead line rods to get deeper. Each day the fish seemed to be in a different area on the lake. Water depths I had targeted were 12-15 with the spin cast and 18-26 with the lead line. The cranks I was using were jsr 5 and also flicker shads of the same size. Each area the color seemed to be different the walleye and sauger wanted.
After about 8 days the river started to clean up enough to start being able to fish it again. As the last week had gone I could see from 4 inches of clarity to yesterday I could see about 10 inches or more in areas. And this helped being able to put walleye and even some nice crappies into the boat. On the river I have been pulling bottom bouncers and also dragging jigs. I have been fishing in water depths from 2 -10 foot in the river to catch the walleye and sauger.
I would like to thank the following folks for choosing my guided service. Jason and his dad Randy ( personal best 28 incher), Big fish Bobby and Bill. Tim,Chris,Jason and Jeff who is always a blast yesterday. Mr. Anderson and his Son Mason who are always fun to have in the boat.
The water temps have come down a tick from a high of 83 degrees I seen a week ago to yesterday I had 79 degrees. As the sun continues to go down earlier each day we shall see it drop a little. That will help the bite coming up. If you want to target panfish it's about to be go time for big blue gils and crappies soon with the water levels getting down to and below 4 ft on pool 4.
Good luck out there guy and gals !!!!