Fish On! With Denver's Mississippi River Guide Service!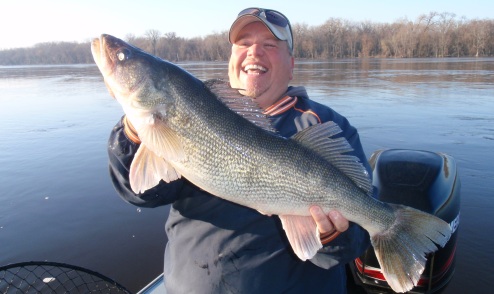 Mississippi River & St. Croix River Fishing Guide Denver McKinnon. Over 38 years of experience!
Denver has been fishing the Mississippi River system for over 38 years. With a lot of experience on the river, Denver feels that guiding is the best way to pass on the Mississippi River and St. Croix river knowledge he has gained over the years.
Whether interested in bring home fish for dinner or looking for a trophy, Denver will do his best to provide you with a happy and exciting day. You can choose the target species between Walleyes, Sauger, and Crappie. The techniques you learn with Denver will help you when you are out on your own on the Mississippi River and St. Croix River. Denver guides on the Pool 2 (St. Paul), Pool 3 (Hastings), and Pool 4 (Red Wing) of the Mississipi River. He also guides on the St. Croix from Hudson all the down to Hastings. Book a trip today with Denver's guide Service, and let your Mississippi or St. Croix River fishing adventure begin!
Check out Denver's recent Mississippi River fishing reports. He adds a report almost each time he is out, so check back often to see what the fish are up to! Also, take a look at his Mississippi River trip logs to see stories from his client trips and testimonials!
"Thanks again so much for a great day fishing. My dad and I had a great time. Good luck with the softball in Mankato and drive safe." - Matt (Red Wing trip 09/23/11)
Mississippi River walleye fishing report
Thursday, May 25, 2017
All I can say is make it stop raining !!!! The mighty Mississippi River is jacked up right now, as of today it's at 11.2 ft this does not happen often for this time of the year.
The walleye bite has changed daily with the rising water. I gone from a two man limit one day to getting 5 keepers the next. Ho ever we have gotten into some real nice Walleye's too with the higher water. Remember each day you have to adjust to the changing conditions and don't forget all the debris floating down the river when the water is this high.
I have been trying to stay in the shallower water as of late. Some days it's worked and others I had go too the 10 plus to get Walleye's to bite. We have been fishing several techniques in my boat from pulling three ways with leeches, and crawlers, Dragging jigs and pulling cranks have all worked in my vessel. Each spot had its technique change. What a great time the pats few times out with my clients and would like to say thank you to all for choosing my guide service for your enjoyment on the river
May 13 th. I had Morgan, Tim O dog and his father in the boat. Not a fast bite today but we managed to send the home with some Walleye's for fish tacos.
May 18 th Matt , Mark and Karl joined me and we targeted some bigger Walleye's that are pictured below that Mark caught pitching cranks Fin tome gentle and I look forward to next year and the great stories form the night out before our trip
May 22 Ryan and Ryan and I started out trying to find a giant bit theu wpilf not bite today We did manage to get a two man limit for the gentlemen to take hole today for there families to eat for dinner Gear tone as always gentlemen look forward to another day with you in the future
May 23 skip and his father in law Grant joined me to learn some techniques we did several things today and I am glad to teach you gentlemen how to fish the river Good luck in the future and I look forward to hearing how these things worked for you
The river is starting to heat back up after the cold rains happened and dropped the water temperature 6 degrees this really changes the Walleye's aggressiveness and I look forward to the next week with it warming back up
good luck out there guys and gals !!!!!