Fish On! With Denver's Mississippi River Guide Service!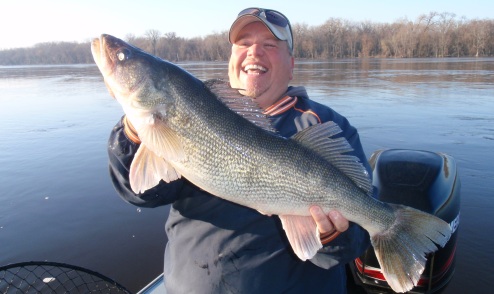 Mississippi River & St. Croix River Fishing Guide Denver McKinnon. Over 38 years of experience!
Denver has been fishing the Mississippi River system for over 38 years. With a lot of experience on the river, Denver feels that guiding is the best way to pass on the Mississippi River and St. Croix river knowledge he has gained over the years.
Whether interested in bring home fish for dinner or looking for a trophy, Denver will do his best to provide you with a happy and exciting day. You can choose the target species between Walleyes, Sauger, and Crappie. The techniques you learn with Denver will help you when you are out on your own on the Mississippi River and St. Croix River. Denver guides on the Pool 2 (St. Paul), Pool 3 (Hastings), and Pool 4 (Red Wing) of the Mississipi River. He also guides on the St. Croix from Hudson all the down to Hastings. Book a trip today with Denver's guide Service, and let your Mississippi or St. Croix River fishing adventure begin!
Check out Denver's recent Mississippi River fishing reports. He adds a report almost each time he is out, so check back often to see what the fish are up to! Also, take a look at his Mississippi River trip logs to see stories from his client trips and testimonials!
"Thanks again so much for a great day fishing. My dad and I had a great time. Good luck with the softball in Mankato and drive safe." - Matt (Red Wing trip 09/23/11)
Mississippi River fishing report
Saturday, September 18, 2021
With fall upon us now, things should really pick up soon on the walleye and sauger bite. The factors like moon phase, cooler temperatures on the water, and the sunshine hours diminishing make the fish go into a mode where they start to eat more to store up fat for the winter. Sorta the same thing the elusive bears do in the woods. Now it's your turn to go find the areas they are heading to.
Over the last couple weeks I have seen these signs mentioned above start to happen. It's not a fast turn around but as time goes it will speed up. I've done quite a bit of panfish fishing as of late with some really good success. Howe er like any other type of fish you target it changes day to day. You always have to be able to make adjustments. One day I'm using hair jigs and the next I have switch to a drop shot rig to get the fish to bite. Always be prepared to switch it up.
This week I targeted both paninis and walleye/sauger. On Tuesday I had a couple ladies in the boat and we started out chasing walleye and Linda got a smaller sauger in the boat right away. It did not take long and Sharon got a good one that hit the coffin for the ladies to take home to eat. After doing this for a while I took the ladies down to get some pan fish. Well they started putting a smack down on these guys too boating several nice 8-9 inch gils and a nice crappie. What an amazing time watching you ladies enjoy the outdoors today. And thank you for choosing my guided service.
Wednesday I had James, his brother , dad, and nephew Logan. Logan had never caught a fish before so it was game on. After a little adjustment Logan had the first fish in the boat and started out the right way getting a walleye. He boated several walleye and sauger today and so did his uncles with Todd catching the biggest fir the third time straight coming out in this group. James probably had the numbers in everyone but who's counting. Lol. Fun day again gentlemen and look forward to getting your mom out again next year .
Friday I had Brian, Terry, and Chad join me. After trying a couple areas we decided to hit the lake and we found some walleye that wanted to chew on our crank baits. Brian and Chad both seemed to have the hot hand in this area we were fishing. After Terry was taking quite a bit of nagging from all of us he boated the biggest one of the day making up lack of production. Not bad for someone who really never fished before. You did well today gentlemen and it was my pleasure taking you out and showing you what the river can produce and the smiles you guys had made my day.

The river is still very low so be extremely vigilant on how and where you are heading. It won't take much to ruin your day or even your fall time fishing. Boat dealers are struggling to get parts right now so if you mess it up you may be down til spring or later.

When I looked yesterday the level was 2.4 ft. The water temperature just about everywhere was 70 degrees. And not a lot of flow anywhere. There is bait everywhere in the system from the lake to the river Keep your eyes out in the electronics for the fish following them and you should be able to catch a few to take home. By the way thief is an abundance of small sauger again this fall so they can keep a kid busy catching and not getting bored. The clarity of the water is very good right now so these fish can see baits from a longer distance.

good luck out there guys and gals!!!