Fish On! With Denver's Mississippi River Guide Service!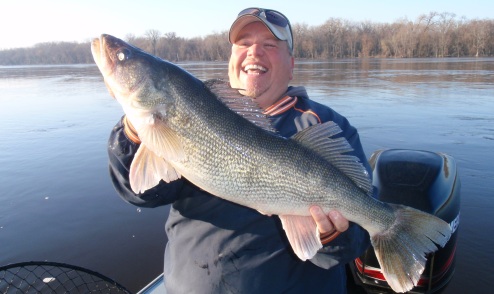 Mississippi River & St. Croix River Fishing Guide Denver McKinnon. Over 38 years of experience!
Denver has been fishing the Mississippi River system for over 38 years. With a lot of experience on the river, Denver feels that guiding is the best way to pass on the Mississippi River and St. Croix river knowledge he has gained over the years.
Whether interested in bring home fish for dinner or looking for a trophy, Denver will do his best to provide you with a happy and exciting day. You can choose the target species between Walleyes, Sauger, and Crappie. The techniques you learn with Denver will help you when you are out on your own on the Mississippi River and St. Croix River. Denver guides on the Pool 2 (St. Paul), Pool 3 (Hastings), and Pool 4 (Red Wing) of the Mississipi River. He also guides on the St. Croix from Hudson all the down to Hastings. Book a trip today with Denver's guide Service, and let your Mississippi or St. Croix River fishing adventure begin!
Check out Denver's recent Mississippi River fishing reports. He adds a report almost each time he is out, so check back often to see what the fish are up to! Also, take a look at his Mississippi River trip logs to see stories from his client trips and testimonials!
"Thanks again so much for a great day fishing. My dad and I had a great time. Good luck with the softball in Mankato and drive safe." - Matt (Red Wing trip 09/23/11)
Monday, March 20, 2017
With the river conditions changing so much as of late we have had to do some adjustment to put Walleye's and saugers into the boat. Everts Resort has become my second home the last week as I have been out fishing 6 of the last 7 days. The river has gone from 6 inch clarity to close to 15 inches by the end of the weekend
I have been fishing several techniques over the last week. Let me start out by saying Dubuque rigging has been a good producer for me for about two weeks now Vertical jigging has put some Walleye's in the boat and then pulling three ways with floating rapalas has also put fish in the boat.
The bigger fish in the pictures below have come on raps. Brian got his personal best walleye in Thursday. The girth on this piggie was amazing to see. Like I told Brian today that is a walleye of a lifetime most anglers never get a walleye over 10 lbs in their lives. Nice job Brian
Next is the picture of the large sauger that Chuck pulled in. This sauger 23 inches and 4.5 lbs also was not only taken on a Rap but the same rap that Brian got his walleye on the day before. This Limit creek 6'9 bait casting rod is the ticket. I bought them on Monday morning got them set up by Wednesday and wow what a great decision. The okay in this rod with those big fish was key to wearing the Walleye's out by the time they came up high enough to net them.
I would like to thank Larry and Bryan, Chuck and Matt, and Jason and Chris for choosing my guide service and am happy you gentlemen really enjoyed yourselves on the river.
Water temp has been running right around 37 degrees. The flow has came down to 32000 cfs and the river stage is 5.7 and staying steady at the moment.
Good luck out there guys and gals. !!!!!