Fish On! With Denver's Mississippi River Guide Service!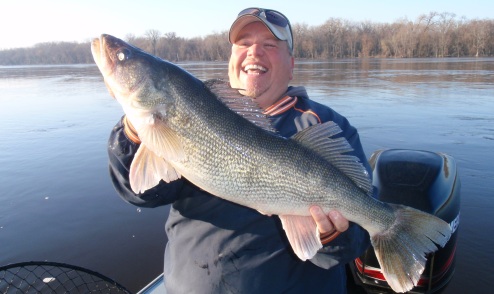 Mississippi River & St. Croix River Fishing Guide Denver McKinnon. Over 38 years of experience!
Denver has been fishing the Mississippi River system for over 38 years. With a lot of experience on the river, Denver feels that guiding is the best way to pass on the Mississippi River and St. Croix river knowledge he has gained over the years.
Whether interested in bring home fish for dinner or looking for a trophy, Denver will do his best to provide you with a happy and exciting day. You can choose the target species between Walleyes, Sauger, and Crappie. The techniques you learn with Denver will help you when you are out on your own on the Mississippi River and St. Croix River. Denver guides on the Pool 2 (St. Paul), Pool 3 (Hastings), and Pool 4 (Red Wing) of the Mississipi River. He also guides on the St. Croix from Hudson all the down to Hastings. Book a trip today with Denver's guide Service, and let your Mississippi or St. Croix River fishing adventure begin!
Check out Denver's recent Mississippi River fishing reports. He adds a report almost each time he is out, so check back often to see what the fish are up to! Also, take a look at his Mississippi River trip logs to see stories from his client trips and testimonials!
"Thanks again so much for a great day fishing. My dad and I had a great time. Good luck with the softball in Mankato and drive safe." - Matt (Red Wing trip 09/23/11)
Pool 4 walleye fishing report
Monday, August 8, 2022
I am finally back from all my softball travels for the summer. Since I returned I've had a few walleye trips with some great folks. The walleye and sauger bite has slowed a bit since I left but if you put your ti e in you can get into a few for the oil bath as Jenna from today would say.

Jenna and her father Officer Adam joined me today at the launch by 730 a.m. not knowing what they really wanted to chase today I asked them a few questions about fishing. Well I knew right away that these two just loved to go fishing. It didn't matter to them what species we caught.

We caught several species of fish today including walleye,sauger, moon eye sheep head catfish and blue Gil. I could this young lady was having the time of her life. She is a true outdoorsman and I can not wait to get her back out another day on the mighty Mississippi River. And as I spent the four hours on the boat with her and her father I noticed that this kid is something special.
She absolutely loves the outdoors and to boot this young lady is one very smart 14 year old. She said things today that I know at 14 years old I would never of known. the words that came out of her mouth today absolutely blew my mind. " I should of read more books when I was young". I personally can not wait to see what she does in the future with her high IQ level.

The walleyes we caught today we're on dragging jigs with crawlers and leeches. I am noticing we are getting lots of blue Gil's to bite now which is normal for this time of the year. Water depths we fished went between 3 to 10 ft. It seemed I need to be in current areas to get walleyes to bite. Water temperature was hovering around 75 degrees today. We should get a push of flow with the last couple good rainfalls through out the state.

Good luck out there guys and gals!!!!!