Fish On! With Denver's Mississippi River Guide Service!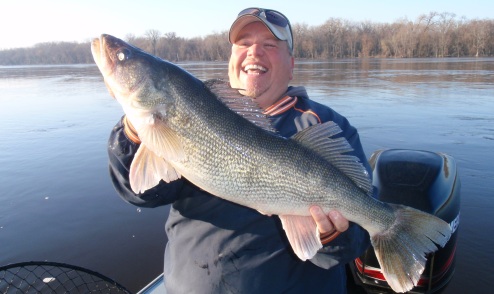 Mississippi River & St. Croix River Fishing Guide Denver McKinnon. Over 38 years of experience!
Denver has been fishing the Mississippi River system for over 38 years. With a lot of experience on the river, Denver feels that guiding is the best way to pass on the Mississippi River and St. Croix river knowledge he has gained over the years.
Whether interested in bring home fish for dinner or looking for a trophy, Denver will do his best to provide you with a happy and exciting day. You can choose the target species between Walleyes, Sauger, and Crappie. The techniques you learn with Denver will help you when you are out on your own on the Mississippi River and St. Croix River. Denver guides on the Pool 2 (St. Paul), Pool 3 (Hastings), and Pool 4 (Red Wing) of the Mississipi River. He also guides on the St. Croix from Hudson all the down to Hastings. Book a trip today with Denver's guide Service, and let your Mississippi or St. Croix River fishing adventure begin!
Check out Denver's recent Mississippi River fishing reports. He adds a report almost each time he is out, so check back often to see what the fish are up to! Also, take a look at his Mississippi River trip logs to see stories from his client trips and testimonials!
"Thanks again so much for a great day fishing. My dad and I had a great time. Good luck with the softball in Mankato and drive safe." - Matt (Red Wing trip 09/23/11)
A little pre spawn to post spawn action going on in the river
Monday, April 24, 2017
Over the last week or so the pre spawn bite has slowed and now all the walleye fishermen are starting to go to their post spawn techniques. Picking the right one each day can really increase your odds of pulling in numbers and even getting a bigger fish to boot. Although they are at as heavy thus time of the year they are still giant Walleye's .
In my boat I have switched from Dubuque rigging to doing a little pitching of plastics and blades and also pulling cranks to put numbers into the boat. Each day has been different on colors from chartreuse , blues and even red craw. The other choices are from pulling balsa wood to jointed cranks. Both have worked on different days.
When im pulling cranks I really like to use my Limit Creek 8 '3 spin cast rods, reason is I am using braided line and in my opinion you need the extra play in the rod when trolling at a fast pace. Always remember when pulling cranks on braided line there is no need to jerk the fish when they hit 90 percent of the time they are already hooked with the speed your trolling.
Tuesday Tom from DSG La Crosse brought a couple of his client named Jeff and Dan. These guys were a blast to fish with today and Tom thank you for trusting my skills of guiding to take your clients out on the river. Really glad you gentlemen enjoyed yourselves today.
Thursday I had the pleasure of taking Chase the dog fish king and his father Micheal and mother Missy out We fished several areas today and caught fish in just about everyone Missy even got her first Fish ever today See Missy your not so bad of luck after all It was fun watching you get your first fish makes my day to see the smile of your face
Friday was another fun day out on the water with Matt and His father Larry. we mainly pitched blades today catching some really nice male Walleye's for these gentlemen to take home today to have for dinner. Great time guys and am glad I could teach you something about the river. See you soon Matt for the trolling bite.
Monday I talked my wife Kim into visiting the river for the first time in in over 5 years. We pitched blades catching bass sheepshead and Walleye's today and also Kim got her biggest walleye to date a nice 23 inch male. What a fun time hon seeing you enjoy the river again, It was 58 degrees and she dressed like it was 28. To many hours indoors I need to get you out more.
The river is rising and the water temperature is doing the same. Clarity has changed from day to day you just need to adjust to these changes. Post spawn can be even better than prespawn if you know how to adapt. All three of those bigger fish in the one picture are over 21 inches and were released for another day.
Goid luck out there guys and gals !!!!!!