Fish On! With Denver's Mississippi River Guide Service!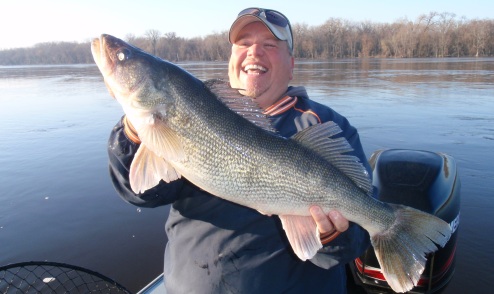 Mississippi River & St. Croix River Fishing Guide Denver McKinnon. Over 38 years of experience!
Denver has been fishing the Mississippi River system for over 38 years. With a lot of experience on the river, Denver feels that guiding is the best way to pass on the Mississippi River and St. Croix river knowledge he has gained over the years.
Whether interested in bring home fish for dinner or looking for a trophy, Denver will do his best to provide you with a happy and exciting day. You can choose the target species between Walleyes, Sauger, and Crappie. The techniques you learn with Denver will help you when you are out on your own on the Mississippi River and St. Croix River. Denver guides on the Pool 2 (St. Paul), Pool 3 (Hastings), and Pool 4 (Red Wing) of the Mississipi River. He also guides on the St. Croix from Hudson all the down to Hastings. Book a trip today with Denver's guide Service, and let your Mississippi or St. Croix River fishing adventure begin!
Check out Denver's recent Mississippi River fishing reports. He adds a report almost each time he is out, so check back often to see what the fish are up to! Also, take a look at his Mississippi River trip logs to see stories from his client trips and testimonials!
"Thanks again so much for a great day fishing. My dad and I had a great time. Good luck with the softball in Mankato and drive safe." - Matt (Red Wing trip 09/23/11)
Mississippi River walleye and sauger fishing report
Sunday, August 27, 2023
With the busy family vacation and not having my boat for over three weeks I had not gone out much in july. So now to August and we are just about finished with this month. I have been a quite a bit lately not only chasing walleye but the panfish have started to heat up too.

We have been using the rig at ti es and also dragging crawlers, leeches, and some willow cats. Each days we have had to make adjustments to what the walleye have wanted and also to what the wind condition's have been. Most of the time when pulling the rig I have been in water levels from 8-14 ft. When dragging jigs we have been a little shallower at times even 3 ft. Our low river conditions have all but duplicated what we went through last summer so good news is keeping notes each year pays off on where and when to fish areas.

I had the pleasure of sharing my boat with Jack, Nick, and jacks new brother in law now Jake. These three gentlemen were fun in the boat today. We ended up getting these fellas plenty of walleye and sauger for the frying pan on this date. Gentlemen as always it was fun spending time with you in the boat and I will see you again in October Nick. Don't forget John holds the belt as for now.

Last week was a special week for Jay brought three of his grandsons with me. Adam,Andrew and Bryce were on point today in the very windy conditions. On a day with a cold front coming through a guide never knows what's in store, each on the bite is different. On this date the bite was on for these three young men. Bryce being the oldest one in the group got into the biggest one today measuring in at 24 1/2. And what I seen of the walleyes they are starting fatten up a little for the fall. This should be a good one like last year. Jay thank you for bringing your grandsons out with me to enjoy watching them have fun in the boat.
Get ready for the fall folks we are ready for the good bite coming up quickly. Water temperature going down is kicking them into gear so buckle up.
Good luck out there guys and gals !!!